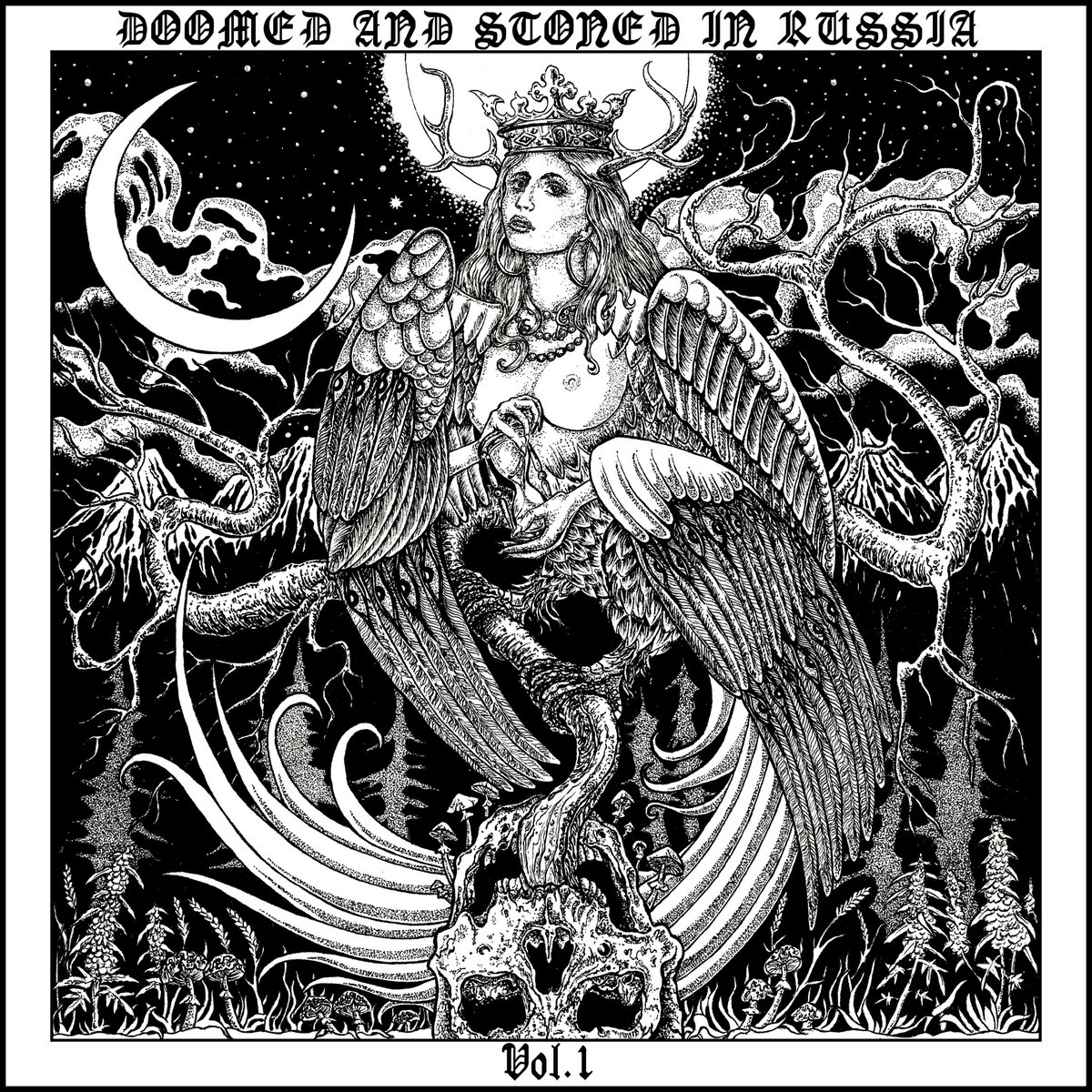 Get the latest compilation in Doomed & Stoned's ongoing series exploring heavy music scenes from around the world! Doomed & Stoned in Russia, Vol. 1′ (2021) features 58 bands from the Land of Rus, with styles ranging from trad and Gothic doom to death-doom, black-doom, and progressive doom, as well as some stoner and heavy psych rock for good measure.
There are a few surprises along the way, including heavy metal tracks that date back to the last days of the USSR and several pioneering underground metal bands from the '90s that are playing to this day! Includes contributions from The Re-Stoned, The Grand Astoria, Pressor, Evoke Thy Lords, and more!
In its first week, Doomed & Stoned in Russia was a Bandcamp Bestseller across all genres and formats and hung tight on the first page of popular metal downloads, as well!
Redeem one of the 100 download codes below to secure your copy and redeem it at doomedandstoned.bandcamp.com/yum.
my5t-wruh
bk6y-hdmv
wny3-vc88
eakm-6cbn
87y9-kxsj
2wuk-gvcy
apmt-79dr
khda-xfkn
ke4g-jazj
u8s3-y2yk
mz4l-7h79
9yp4-vvpz
yu9h-gybg
ymys-bf4u
y8kp-wqvp
2k3g-ctt2
ayvy-w2uh
rtgz-hcmv
h96f-kv94
h33x-gkgm
hdap-79f6
q498-59jk
9c23-btz8
yhl5-xnkn
yqs9-jezj
384n-ybyk
aksx-7×79
8yjs-jqpz
t2gs-y8bg
uluy-gmsy
ve5y-uzwr
967z-j6ld
nnwn-kgvc
lajv-6uzw
c69r-6q94
cn2d-y9gm
cdme-7zf6
ph8g-5zjk
8cnn-bgz8
tsdm-x7kn
vzmk-c3nh
7y8k-xwvv
luk2-vsg8
qmy5-6drn
9rkg-klcj
3x3z-gjsy
5evz-u6wr
g8bk-jkld
2nxu-kyvc
d5qa-kfzw
s88b-6m94
6zqc-vmez
k384-ggrg
zvz4-37hu
z9tj-cvmp
ntn6-wyy2
5k5t-wrnh
by6y-hsvv
w2y3-vdg8
pmkm-6crn
8by9-khcj
jh66-ekqk
643u-3yk8
kcda-xfzn
zj4g-jpkj
n9s3-y2tk
mt4l-7hf9
gkp4-vjez
y39h-gyrg
yath-3uhu
t9kp-wqmp
2y3g-c8y2
uux3-ktmc
xmem-6nkw
h86f-kj64
4u3x-gk8m
4wvj-uk76
qs98-59qk
gh23-b8k8
ycl5-xnzn
yps9-jakj
294n-ybtk
aysx-7xf9
jvzv-kwbn
6fy8-k4sj
uduy-gqcy
mj5y-uzdr
9g7z-jzxd
n2wn-kgmc
wmjv-67kw
cgg7-kv64
c22d-y98m
slme-7976
pc8g-5zqk
k6zq-cmvp
uz29-wgt2
vtmk-cbuh
fk8k-xwmv
l3k2-vs88
qay5-6sbn