"You'll never lose you're mind as long as you're heart always reminds you where you left it" -Mike Cooley (Drive-By Truckers)
I don't know about you, but 2020 has made it hard to remember where we left our minds. Luckily, as evidenced by our monthly chart, the heavy underground music scene has a huge heart and maintained its focus on releasing more killer music than ever before. November finds us with 20 Doom Charts debuts and 5 repeats from month's prior. Dig in and let us know what you love and what we missed.
Welcome to Doom Charts, representing some of the finest bloggers, journalists, radio, podcasters and album reviewers from the heavy underground around the globe. Each month, our critics submit their picks for the best new doom, sludge metal, stoner-psychedelic and heavy rock albums. The results are compiled and tabulated into the chart below. This is a one-stop shop for the best new albums in the world…
30. KING GIZZARD & THE LIZARD WIZARD – K.G.
27. BIG SCENIC NOWHERE – LAVENDER BLUES
26. THE RE-STONED – THUNDERS OF THE DEEP
25. RICKSHAW BILLIE'S BURGER PATROL – BURGER BABES…FROM OUTER SPACE / NEW!
(Fuzz, Doom Wop, Punk Rock, Party Metal)
192 POINTS
(Austin, Texas)
Untuck your bibs and fill your mugs as the Burger Patrol is back with another beard full of greasy riffs, spastic energy and caloric groove. The keto approved fuzz is fatter than your uncle Bert, and can still beat your ass in a bar brawl.
~BUCKY BROWN
24. DARK BUDDHA RISING – MATHREYATA/ NEW!
(Heavy Metal, Metal, Doom)
210 POINTS
(Finland)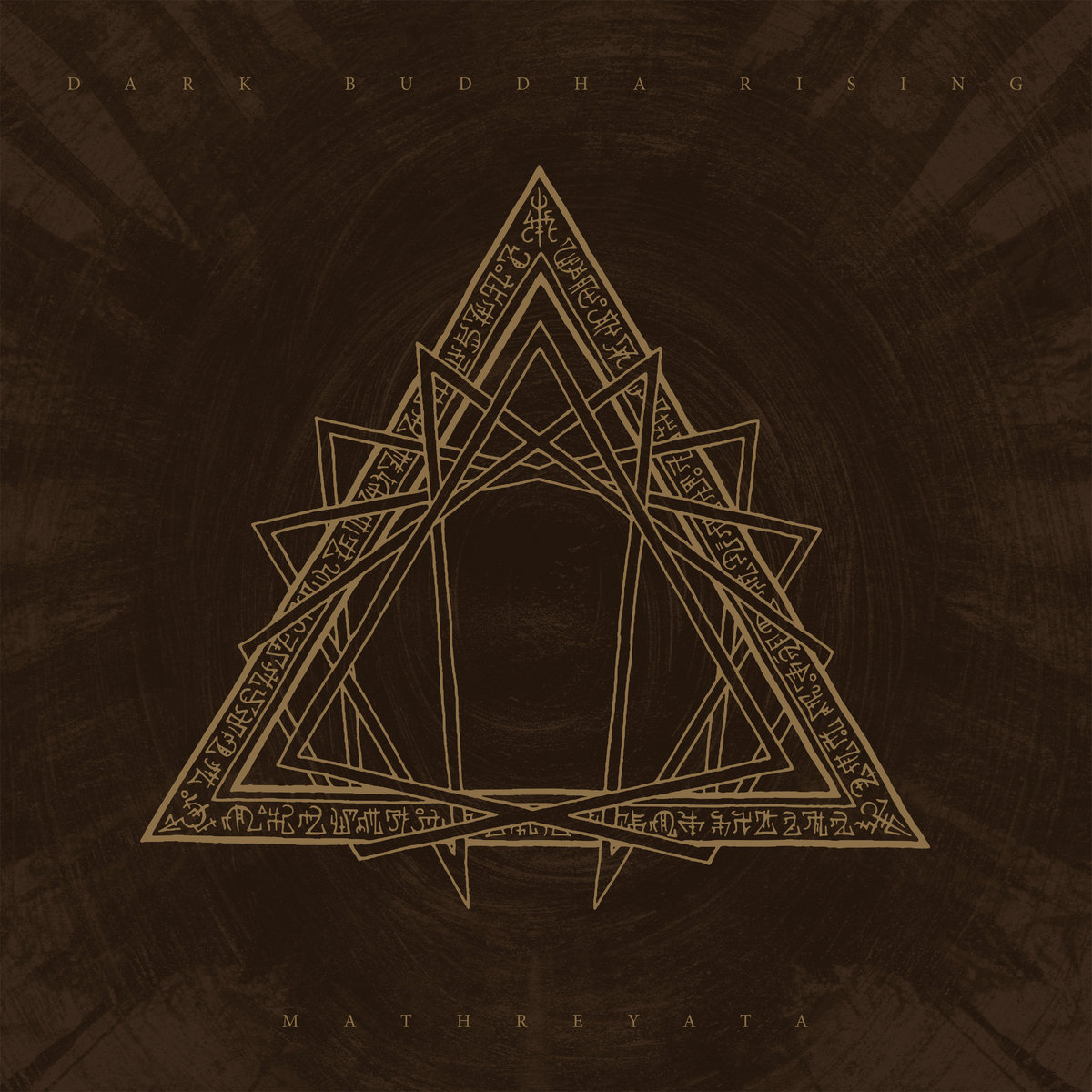 "Mathreyata" unfolds with visceral Darkness..a sprawling, oft-chaotic slow-crawl of malignant noise and atonal atmospheres…hypnotic and crushing!
~REEK OF STOOM
23. CORTEZ – SELL THE FUTURE
(Heavy Metal, Stoner, Doom, Hard Rock)
216 POINTS
(Boston, Massachusetts)
Dropping a needle down on a Ripple Music release I'm always taken back to why I'm so obsessed with this genre of music. A group like Cortez comes out of the woodshed to split some logs of Iommi inspired riffage while wielding a grunge fueled axe. Sell The Future will fuel your fire as this dark winter approaches. Grab some kindling and stoke the flame with this more than heavy Ripple release.
~ROBERT PANNELL
22. THE ABSURD – THE SUN STILL RISES / NEW!
(Hard Rock, Metal, Punk, Alternative, Desert Rock)
224 POINTS
(Los Angeles, CA)
The bass slaps harder than your mom's angry palm across your cheek after she caught you smoking her cigarettes. Combining their bombastic knack for melody with a renewed sense of absurdity and contradiction to Mushroomhead, The Sun Still Rises and it blinds us with its smoldering hook and rhythmic bliss.
~BUCKY BROWN
21. WYTCH HAZEL – III: PENTECOST / NEW!
(Heavy Metal, NWOBHM, Hard Rock)
294 POINTS
(Lancaster, UK)
This third album is a winner if you, like me, love the vibe of the seventies. Everything the band did well last time they do better on 'III'. A bit rustic, folksy and stuck in the 70s, but it kick ass and drags you into the past. The first song "He is the Fight" is a Grade A album kickstarter in every sense. Musically this is fantastic with great lyrical content. This is a really nice trip to the past.
~ERIC VARASIFSKY (THE GENERAL)
20. 10 CODE – RIDE / NEW!
(Hard Rock, Stoner Rock, Alternative, Grunge)
300 POINTS
(Athens, Greece)
There are times in the history of music one could say that many great things (bands) hail from Greece. Not a falsehood by any means, this commentary was made to reference the likes of the Athens-based quartet 10 CODE, and their recently issued sophomore album, "Ride". And what a ride it is! Chock full of a fluid swagger moving through mountains of desert rock, precise and on point though never pretentious, there is an unwavering confidence to this aromatic, contemporary rock. With an edginess reminiscent of early Queens Of The Stone Age, and the potential for a commercial appeal ala Foo Fighters, the wide expanse of multifaceted music made by this fantastic foursome delivers something for everyone. Yes, these Grecians have our number, and we have theirs, it is one and the same: 10 CODE.
~PATRICK WHITAKER
19. LIGHTMAKER – LIGHTMAKER / NEW!
(Doom, Heavy Metal, Hard Rock)
370 POINTS
(Brooklyn, New York)
Lightmaker's sonic boom rumbles deep from the underground: Groaning, Lascivious licks grooving with a strong female lead deliver punchy, yet melodic Doom that fans of Stonefield and Blackwater Holylight will drool over.
~REEK OF STOOM
18. LYKANTROPI – TALES TO BE TOLD / NEW!
(Hard Rock, Folk, Psychedelic, Progressive)
378 POINTS
(Sweden)
Tales to be Told swirls with sweet Swedish folk steeped in rich, earthy tones, dueling guitars and raging rhythm. The sounds are cultivated with a late 60's Laurel Canyon flavor and tilled into the modern landscape complete with witchy, yet dynamic vocals, intoxicating songwriting, and soothing harmonies. This is a very adventureous output with trance heavy atmosphere and dance worthy groove. FFO Orango, Fleetwood Mac, Witchwood, etc..
~BUCKY BROWN
17. KADAVAR – THE ISOLATION TAPES
(Hard Rock, Retro, Stoner, Fuzz, Doom)
384 POINTS
(Berlin, Germany)
The German outfit's penchant for experimentation bears succulent fruits on "The Isolation Tapes". Echoes of Floyd & Beatles abound, sublime shifts from ambience to doom, delivered with real style and panache!
~REEK OF STOOM
16. BIG OAF – BIG OAF / NEW!
(Metal, Stoner, Sludge, Blues)
410 POINTS
(Atlanta, Georgia)
Big Oaf have us hooked right from the start of the album with that "fuzz"rocious guitar tone of theirs and that dirty vocal. It's crunchy, aggressive and FAT!!! The faster tempo alternating with slower ones makes it an enthralling ride! The perfect album to pick up some fights!!!
~MARC-ERIC GAGNON
15. SUN OF GREY – OUTERWORLD
(Doom, Stoner Metal, Fuzz)
432 POINTS
(Colorado Springs, Colorado)
If you loved Sun of Grey's self-tiled debut release but hoped for a little more from the band than just two songs, then the bands first full length release "Outerworld" is going to answer all your prayers. Sun of Grey spoil us this time around with six absolutely mind-blowing songs that prove you can still be heavy, loud, muscular and intense without having the need to sacrifice essential elements like melody and musicality.
~FRAZER JONES
14. ELECTRIC HYDRA – ELECTRIC HYDRA / NEW!
(Hard Rock, Metal, Stoner Rock)
440 POINTS
(Uddevalla, Sweden)
Never heard of the band Electric Hydra? Their raw, hard charging, full of kinetic energy debut album titled "Electric Hydra" was just released near the end of November. Once you dive into this dynamic aural overload of superb music, released on Majestic Mountain and Tee Pee Records, you might find yourself cancelling plans and putting this into a heavy rotation and cuing this up repeatedly. Calling Uddevalla, Sweden home this Stoner / Punk Heavy Rock quartet have unleashed a powerful album upon the masses after a long, but so worth it, wait. They unleash riffing that is just so damn catchy and explodes like a stick of dynamite from the 1st song to the last. "Iron Lung" is a favorite that gets Doom-heavy as all fuck. I love it.
~MARK PARTIN
13. TROLL TEETH – GOES NOWHERE, DOES NOTHING / NEW!
(Heavy Metal, Doom, Hard Rock)
483 POINTS
(New Jersey)
Goes Nowhere, Does Nothing is an album that tells a story, a story set to music that slowly unfolds not page by page but song by song and each song a chapter in that story. A perfect marriage of music and storytelling "Goes Nowhere, Does Nothing" is an album that will have you edging wide eyed with wonder and excitment towards the edge of your seat with its lyrical tales of monsters, villains, betrayals and lies but at the same time will have you jumping from that seat with the sheer power and strength of its music.
~FRAZER JONES
12. ENIGMA EXPERIENCE – QUESTION MARK / NEW!
(Heavy Metal, Doom, Hard Rock)
495 POINTS
(Scandanavia)
Dirty, fuzz filled riffs (check)
Intoxicatingly melodic (check)
Emotionally stirring (check)
Electrifying (check)
Let's be honest.. How many albums can you say that you've listened to that can check all of the above boxes…? The short answer is less than a handful, if that. Now… add in superb vocals that at times channel Chris Cornell. Sounds pretty unbelievable, right? Well.. If I wasn't listening to the album at this very minute I wouldn't believe it myself. The only Question Mark (see what I did there?) is whether you'll be buying this album on cd, vinyl or both!
~JAMEY MORRIS
11. MURCIELAGO – CASUALTIES / NEW!
(Classic Rock, Hard Rock, Metal, Grunge)
600 POINTS
(Portland, Maine)
The four riders of Murcielago, sound like they came straight out of the desert. Out of a filthy little hole in the ground where they secretly grew into a gigantic beast of a band. There is undoubtedly a big stonerrock edge to their hardrock and grunge sound. But there's so much more and so much more cool. The nine tracks of their newest release Casualties have this magical kind of reverberation; it will make the walls of your house stir, shudder and shake a little. And you will feel it all and tremble along. I was sort of hoping Murcielago would remain the big and heavy secret of the underground; but when the sound is this amazing, there is no possible universe where that could happen!
~JOOP KONRAAD
10. ACID MESS – SANGRE DE OTROS MUNDOS
(Hard Rock, Stoner Rock, Psychedelic, Doom)
612 POINTS
(Oviedo, Spain)
The most ambitious album by the Spanish psychedelic band offers us a range of styles ranging from the psychedelia they have been practicing for years, to brilliant progressive passages influenced by Andalusian rock of the 70's, Latin rhythms and the most alternative underground echoes. Its wide variety of records makes all the songs shine with its own light offering us many incentives for a pleasant listening. The complexity of well-crafted themes contrasts with real energy wastes that hit you knocking you out. An album with great freshness that uses a wide range of colors to achieve a sound box worthy of the best pinacotheca. Riffs, melodies, vocals, everything is taken care of in detail in a work mainly psycho-progressive but in which there is no shortage of exotic elements that enrich songs that wave with a thousand shocking twists.
~ROBERTO LUCAS
9. STARMONGER – REVELATIONS / NEW!
(Hard Rock, Alternative Rock, Doom, Stoner Metal, Fuzz)
759 POINTS
(Paris, France)
Starmonger are ticking all the boxes with Revelations. This album is the fruit of 5 years of work combining all their EP's into one and only majestic album. All songs were copiously crafted through time. A groovy and progressive approach of classic stoner, doom, hard rock and desert rock riffage that will fill the belly's of fuzz eater beasts we are!!!
~MARC-ERIC GAGNON
8. RUFF MAJIK – THE DEVIL'S CATTLE
(Hard Rock, Heavy Blues, Garage, Sludge, Doom)
810 POINTS
(South Africa)
After having turned the spirits in 2019 with Tårn, Ruff
Majik return, straight from his native South Africa to strike a series
of songs all more angry than the others with, The Devil's Cattle.
The band seems as edgy as the bull wearing their cover, leaving a
multitude of voices with many tones to accompany and multiply the
impact of a direct composition which will leave more than one on the
kneecaps. Thirteen titles of such rigor and virulence that there may be a good number of jaws on the ground during their next concerts both because of the hymns which will be chanted with fury, but also for the pit which already promises to be monumental, get ready the surge, Ruff
Majik is here and will spare no one.
~WOMBAT CULT
7. WITCHWOOD – BEFORE THE WINTER / NEW!
(Hard Rock, Progressive, Folk, Classic Rock)
963 POINTS
(Italy)
One of the best bands to know how to read the progressive retro rock of the 70's to build fresh songs and full of incentives for the listener. If you long for the sound of the past of bands like Jethro Tull, Camel, Led Zeppelin without a doubt this is your album. But if the contemporary sound of bands like Hällas is to your taste, here you will find a real treasure in which to dive. The delicate melodies and constant changes of rhythms make each song offer us a different and rewarding experience. Keyboards, flutes and powerful riffs lead us to a dreamy world of tales and legends with angelic choirs and a good dose of psychedelia.
~ROBERTO LUCAS
6. KARKARA – NOWHERE LAND / NEW!
(Hard Rock, Progressive Rock, Garage Psych)
1131 POINTS
(Toulouse, France)
Discovering this second Karkara album is like open Christmas gifts before the season. The French formation gives us a beautiful shock with their Acid Kraut-Stoner Rock. They develop the aspects of their first proposition and project us somewhere in middle of nowhere, in a place where riffs are labyrinth and lyrics stellar ways to be in communion with our own subconscious. Majestic trip that you can't ignore.
Ps: After the Jungle artwork of the first album, now we are in the desert in front of a sort of Temple, remembering some The Return of The Mummy spirit, waiting now for the third chapter and the King Scorpion evil psych madness.
~WOMBAT CULT
5. SWITCHBLADE JESUS – DEATH HYMNS/ NEW!
(Sludge, Metal, Hard Rock, Doom)
1164 POINTS
(Corpus Christi, Texas)
I didn't expect that! I must admit I'm in love! I love that the band are going into the realm of even more primitive and barbaric Doom, Sludge and Stoner Metal. The two openers, Scorched and Red Plains are good examples of what I mean with it's catchy and aggressive feeling but with and psychedelic touch. But the stand out on this album for me are Behind The Monolith. Epic! Switchblade Jesus have added a bleaker element to their music, with some fast paced death metal guitars. This gives the bands music a richer body. With a vocalist that are superb and a band that are skilled on their instruments this it's way to good to miss. If you like the early stuff from Mastodon or High On Fire this is for you! Obey!
~SVEMPA ALVEVING
4. CAUSA SUI – SZABODELICO / NEW!
(Heavy Psych, Fuzz, Prog)
1221 POINTS
(Denmark)
A nod to Hungarian master Gabor Szabo with a fusion of jazz, rock and subtle psychedelia. Painting with a wide range of colors each song, they explore sounds from varied cultures and eras without any complexes. Fleeing overproduction, the themes are shown with their virginity intact, full of freshness and innocence that is difficult not to capture you. Seductive, elegant, experimental, but beautiful and magnetic, the Danes demonstrate that they are at a higher level.
~ROBERTO LUCAS
3. DIXIE GOAT – THERE'S NO LIGHT WITHOUT DARKNESS / NEW!
(Hard Rock, Doom, Stoner)
1344 POINTS
(Santiago, Chile)
The Chileans, 'Dixie Goat', return with a solid album. There's No Light Without Darkness catapults them to a new level. Simple in structure but all perfectly well done. Sound, artwork and music in brutal harmony. Heavy doom, blues, and a lot of dense riffs executed all under a dark sabbathic aura.
~ROBERTO FUENTES
2. THAMMUZ – INTO THE GREAT UNKNOWN / NEW!
(Stoner, Hard Rock, Psychedelic, Doom)
1952 POINTS
(GE, Netherlands)
If this record was a pizza with mushrooms, I'd eat it whole and I hate mushrooms; that's how good this record is. The riffs, the vocals, the atmosphere, everything is just done so nicely, especially on "Slow" (which is my personal pick on this album). So soups on, dude, sit down with me, and let's eat this pizza pie whole!!
~TOM HANNO
1. SUN CROW – QUEST FOR OBLIVION / NEW!
(Metal, Doom, Hard Rock, Proto-Metal)
4800 POINTS
(Seattle, Washington)
From the PNW region of the U.S., where entire musical movements first gained motion, comes another, but one unto itself. Seattle's SUN CROW arise aloft like a phoenix bound upon its "Quest For Oblivion". Wielding a molten take on blackened blues, high upon wings of existential doom and proto metal, this album oozes molasses-like sweltering groove. These contents are heady, lysergically laced and outright otherworldly at times but with morphing elements of aggressive density giving way to gloomy, dismal virtuosity. The darkened vessel that is "Quest For Oblivion" is an epic of far reaching appeal.
~PATRICK WHITAKER
Special thanks to the ongoing contributors to the monthly Doom Chart. You folks help give voice to the heavy underground:
Aaron Pickford (The Sludgelord); Adam Walsh (Earmunchies); Andy Benson (Nerve Salad); Bill Goodman (The Evil Engineer); Billy Goate (Doomed & Stoned); Bob "Mr. Weird Beard" Baker (More Fuzz Podcast); Bobby Rayfield (Trendkill Radio); Brandon Collins(Super Dank Metal Jams); Bucky Brown (The Ripple Effect);  Clint Willis (Hand of Doom Radio); Chris Beck (Doom Tomb Podcast); Chris Latta (Ghost Cult Magazine);  Chris Tighe (The Mighty Decibal); Duncan Evans (Alternative Control); Eric Varasiftsky (Stoner Rock Army); Frazer Jones (Desert Psychlist);  Geoff Leppard (Atom Heart Mutha); Graur Zaur (Crypt Guard); Günther "Doktor420" (Stoner Hive); Héctor "Mr. Heavyhead" Hurtado (More Fuzz); Hugo Hulleman (Metalfan.nl,Orange Maze); Jamey Morris (Fistful of DOOM); Jay Morgan (High Desert Valley Radio); Jim Thompson (Heavy in the Hills); John Gist, (Vegas Rock Revolution); Jonny Pirie (Hour of the Riff); Joop Konraad (Stoner HiVe); Ken Elliott (Heavy Planet);  Kyle Twadelle (Stoner HiVe); Leanne Ridgeway (Riff Relevant); Magnus Tannergren (Into The Void Radio); Marc-Eric Gagnon (Stonefly Effects); Marc C. Pietrek (VITRIOL, INC / A DARK UNITED FRONT); Mark Partin (The Ripple Effect); Matt Slighter (Cheeto) (Hwy 420, Core of Destruction Radio) Matthew Thomas (Taste Nation); Mathieu Van Der Hert (Dutch European Stoner Rock);  Mel Lie (Sunday's Heavy Tunes); Mel Lie (Sunday's Heavy Tunes); Mike Williams (I Talk to Planets);  Pat 'Riot' Whitaker (The Ripple Effect);  'Papa' Paul Rote (Doomed & Stoned); Reek of STOOM (Doomed&Stoned, Stoner Hive); Remi (Remi VL); Roberto Lucas (Denpa Fuzz); Roberto Fuentes (La Habitación 235); Robert Pannell (Doom Loom); Rod Reinhardt (Captain Beyond Zen); Roman Tamayo (Doomed & Stoned); Steve Howe (Outlaws of the Sun);  Shasta Beast (Stoner Hive); Steve Rodger (God's Holy Trousers); Steve Woodier (Shrieks From Below); Svempa Alveving (Into The Void Radio); Tanguy 'Mr Fuzz' Dupré (More Fuzz); Tom Hanno (Tom's Album Reviews); Tom Schmahl (Rock Circuz); Tony Maim (Black Insect Laughter, Stoner HiVe); Tony Van Dorston (Fast n Bulbous); Wombat Tarantino (Wombat Cult)
Feel free to send in your albums to stonerdoomcharts@gmail.com where they'll be delegated to the crew above to determine their thoughts and gather the votes at the end of the month. Leave us comments below and let us know what you think about the Charts.